Notary Public Supply Headquarters

Secretary of State Required Tools of the Trade
Modern Journal of Notarial Events
Geared to professional notaries/signing agents.
Hard or Softcover
Journal with Touch Pad - Save!
AccuPrint Professional Touch Pad
The Modern Journal of Notarial Events was designed to serve the professional notary public. Ideal for signing agents, this journal is focused on loan signings and common notarial acts. Using the combination notarial act/document type check-boxes saves time.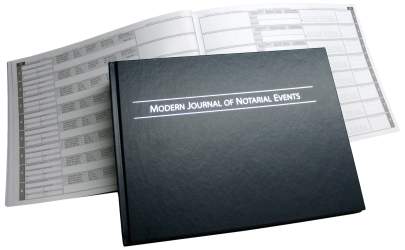 Features

Hard or Soft Dark Blue Cover, Durable Construction, Heavyweight Pages.

Check-boxes: Type of Notarial Acts and Documents, Method of Identity, Satisfactory Evidence (California).

Thumbprint Space.
128 pages, 8 entries per page, 488 total entries.
AccuPrint Professional Touch Pad
High-quality fingerprints without the mess.
1500 to 2000 prints
The AccuPrint Professional Touch Pad is the same model used by banks and law enforcement agencies across the United States.
Jurats and Acknowledgments
Link to Notarial Documents
Have all the documents a notary may need ready to download and print from your computer or any device.
The Link will be delivered to your email.
Documents Included:
Jurat;
Acknowledgment;
Proof of Execution by a Subscribing Witness Certificate;
Certified Copies certificates;
2020 Notary Public Handbook and more.
#1 in Customer Service Since 2005!

"Great instruction and extremely helpful materials. I passed my exam and I am ready to get to work! Thanks Brenda for all your time and knowledge." S.B.