Journaling: Who, What, Why, When, and How
Do you truly understand the importance of accurately maintaining your notary public journal?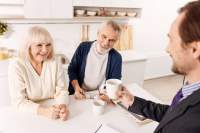 Through complaints or audits, our investigators report that a large majority of journals are not completed correctly.
As a notary public, you are required to document each and every notarial act you perform in your journal. Your journal must not be used for any other purpose other than to chronicle your notarial acts -- as they happen. Entries in your notary public journal only should be made when the notarial act is performed. Do not use the journal as an appointment book for anticipated notarial acts.